It's an interior designer's go-to accessory for creating a classy kind of atmos, don't you think?
If not, let me explain:
Using printed glass as a feature in your home is fast becoming one of the most popular ways to ramp up your interior design kudos. Glass is robust, easy to keep pristine and incredibly versatile, truly a modern miracle material. Glass can be coloured, printed with an image or even coated in an eye-catching and cost-effective alternative a marble or granite.
Imagine covering one wall of your front room with a full-on marble feature wall for a just a few hundred quid!
Using clear glass 'sheets' as walls, or dividers, or any other kind of barrier, is the best way to achieve a light, comfortable and airy living environment. The ideas that clear glass can inspire offer the fledgling designer the chance to make their home into a modern, inspiring space by taking advantage of natural light.
Natural light is so good for us that it's been scientifically proved to improve mental and physical health, so the glass heavy home is going to be an amazing place to live! Before we move on, check out this article of natural light in the home:
We know that using glass in the home can raise health and safety issues but, when treated correctly and used in a sensible manner, toughened safety glass really is as safe as any other material.
In fact, toughened safety glass has increased mechanical and thermal strength. It is used wherever the edge is visible and when the glass supports a load that is more than its own weight – like on our shower screens, bath panels and feature walls.
Plus, toughened safety glass is also useful near a heat source so you can go wild designing your own splashback for behindthe cooker using our brilliant bespoke design service.
There are other advantages too: Toughened Glass Radiator Covers can reduce the touch heat of what can be a quite dangerous, but necessary, home appliance.
Soo, next question is: What do I do with the glass?
Well, obviously plain glass can used to great effect but, if you want make your own mark, then printing your glass is the way forward. Solid colours can be fabulous when creating a statement piece. A bright red splash back in a stark white kitchen … a bath surround that matches the colour of your tiles … or an eye-catching toughened glass radiator cover to make a feature out of the most mundane item in the living room.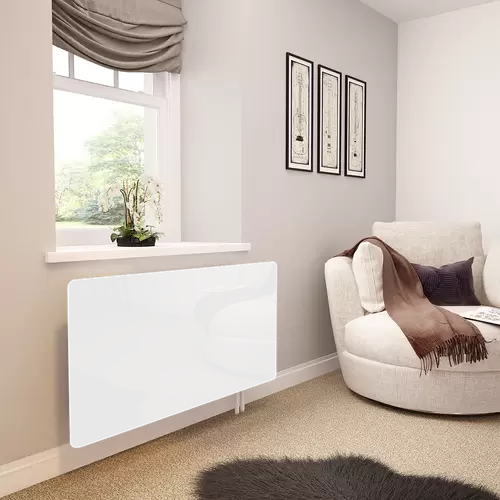 But, if you want to really stoke up your creative fire then a bespoke image is the only way to go. You don't have to imagine stained glass windows here, though that would be as fantastic look as a print, because digital printing technology is coming on in leaps and bounds and have allowed us to print on just about any material to photo-realistic level.
Digital printing is tough and durable, what's more it's as detailed and precise as any other kind of printing – plus, glass is a very clean material.
By which I mean it doesn't breed germs or bacteria so it's safe in that way – but also, as we all know, a spot of polish and a rag and it comes up good as new! So, now you have the ideas n facts – what would you do with your glass ideas?
Well, here's a Pinterest board we found to give you a few ideas – Interior Design – Glass.
You don't have to take our word for it though, check out our thousands of real customer reviews on Trustpilot score with our industry-leading score of 9.5 out of 10, where 95% of customers rate us Great and Excellent.