TUESDAY 28 AUGUST, 2012 |

More Splashback - but this time it's different!
by Administrator | post a comment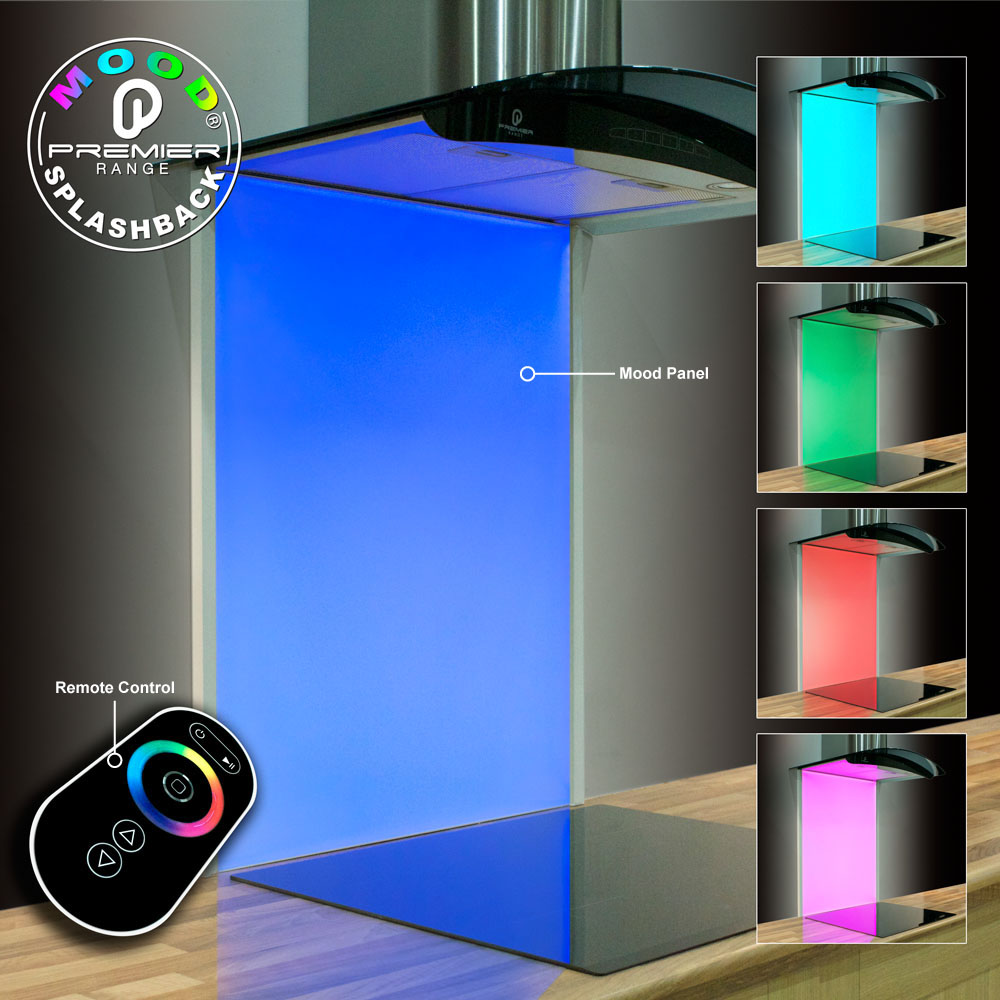 So, in the world of Kitchen design the technology changes behind the scenes but we don't really get to see much of it out front.
What do I mean?
Well, for instance, both fridges and cookers are getting more efficient and easier to use. They consume less power, do their jobs better and need almost no maintenance.
But, when it comes to design, these things are pretty much how they've always been. Sure, they look more modern, sometimes, but the basic box shape and opening handles are more or less the same as they have been for the last 50 years.
But this year, at Premier Range at least, we've taken a leap in modern design with the kitchen accessory you would least expect to need updating – the humble splashback
Now, we've always believed that a splashback is a brilliant way to make your kitchen look great – they're clean, easy to fit and finish of any design perfectly.
But, for 2012, we've taken our splashback well and truly into the 21st century by adding our state of the art mood lighting. This isn't just a light at the top of the splashback either! Oh, no – this design allows the super-efficient LEDs to flood the whole panel with light – light that you control.
Imagine being able to change the colour of your splashback whenever you change the colour of your kitchen?
Or if you're just wanting to change the ambiance in the kitchen?
You can even set the panel to repeat per-programmed patterns – perfect if you're having a party!
We use the kitchen as pretty much a family room in our home – from scarffing down brekkie with the kids amidst the chaos of the early morning school run – to chilling out with friends over a nice glass of Rioja.
So, the way our kitchen is used takes in the whole spectrum of feelings and activity – as yours probably is - so why shouldn't the lighting in the kitchen do the same.
Seems such a simple idea that's never really been exploited, and certainly not at an affordable level, not until now anyway.
Well, we're pleased with our little invention – we've had it Trademarked and everything!
We offer panels, upstands, remotes, power supplies and all the connectors anyone could ever use.
And, the beauty of this system is you can keep adding to it – you could have a whole mood wall if you wanted, just do the kickboards around the bottom of the units or have panels dotted about and controlled from the same place.
The possibilities are only constrained by your imaginations!
We're very excited about the Premier Range Mood Splashback – I hope you will be too.
---